Back
030605
Geneva Haute Horlogerie Campus for Richemont
Companies
Types of mandate
Project, execution file and architectural direction
(Implementation BOS Manager)
Dates
Final approval submitted in April 2012
Opening of the construction site: November 2012
Handover of buildings: May 2016
Technical
informations
34,200 m2 GFA including 25,000 m2 GFA for activities
Location
Meyrin
Collaborators
J. Leresche, P. Jomini, C. Barbaux, C. de
Candolle, E. Kummer, R. Sestranetz, P. Vaz,
J. Armengol, C. Trifan, S. Morel, D. Garcia
A modern agora for the masters of time
The project is a first stage occupying the eastern part of the plot. The 2nd stage will complete the base structure upon which buildings will be placed, as a continuation of existing ones.
The Richemont Group, which owns many exceptional watch brands, is committed to protecting the expertise of luxury watchmaking and developing it for the future. Cartier, Van Cleef, Jaeger - LeCoultre and Roger Dubuis, among others, have taken their place on this site known as the "Geneva Haute Horlogerie Campus". A training centre, a restaurant and an auditorium complete the project to give it a true Campus spirit.
The Campus theme deserved special treatment. We wanted to offer a concept that would bring people together and motivate them; a concept that would offer a vision of synergy and encourage the exchange of know-how and knowledge. Seeking our inspiration amid examples from past ages, it is the analysis of monastic buildings - true temples of knowledge and know-how conceived as small towns and preserved over centuries- that led us to envision the Campus as a small town.
On a unifying base structure, the group's various brands are placed like individual boxes connected by streets or squares and the layout is interspersed with patios offering quality spaces dedicated to shared activities (shared surfaces). Taking advantage of the significant difference in height between the top and bottom of the plot, the base structure is filled with natural light at the foot of the slope and becomes an accessible esplanade for visitors at the top point.
42
geothermal probes
spread over the entire building
2'700m2
of roof surface area
in photovoltaic panels
10'000m3
of recycled concrete
or one third of the total concrete used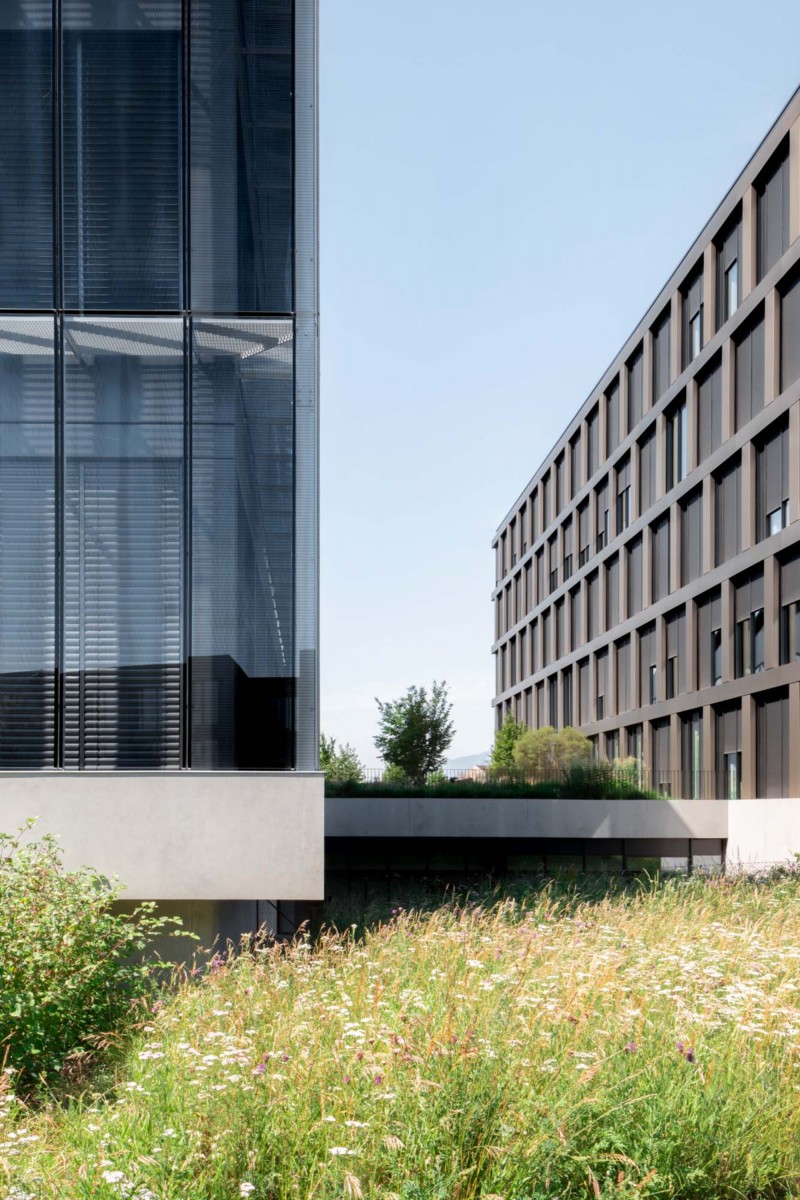 menu
Rather than imposing our vision, we seek to understand how to invent or reinvent a space so that it corresponds to your idea.